Before the Covid-19 lockdown we completed a small downstairs bathroom refurbishment for one of our lovely customers and they were more than happy with the final results! Lets see what you think, the full details of the transformation are below, including all of the products used for this bathroom!
What tiles did we use?
A modern bathroom calls for a modern tile, and we used another one of our favourites for this refurbishment, the City Vienna tile was the tile that was selected for this bathroom, these tiles were used on both the wall and floor. To help bring the best out of this tile we used a decor tile also from the City range, the City Cold Horizontal decor tile, this contrasted well with the lighter coloured City Vienna and helped give the bathroom that little bit of wow!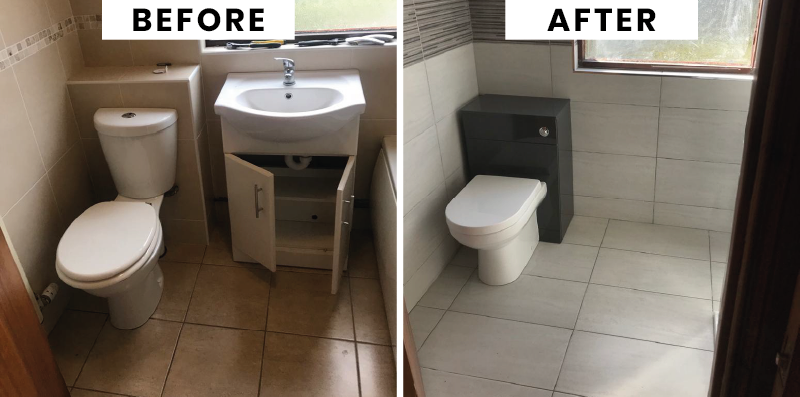 Toilet
As you can see above, we removed the sink, which was previously closely crammed next to the toilet, this allowed the bathroom to become more spacious and to show off its beauty. The toilet that we installed was the Chloe back to wall pan with a soft closed seat. The gloss grey back to wall unit contrasted well with the tiles and matched the sink that you will soon see!
Sink & Mirror
The sink was moved over to where the bath previously was, this allowed the bathroom to become more spacious, with the installation of a new shower to go along with it. The sink was the Belmont standard unit and basin in Gloss grey with a back to wall unit matching the toilet. The mirror was also a cabinet to allow for extra storage with a modern lit mirror, for this the Avant single door LED cabinet (includes recharging socket) was selected.
Shower
As the bath was removed, we added in a new contemporary shower, which was a combination of Lakes and Mira, Lakes provided the slider doors and end panels, whilst Mira provided the Mira sport 9.0kw electric shower with air boost, this was finished off with a slimline tray.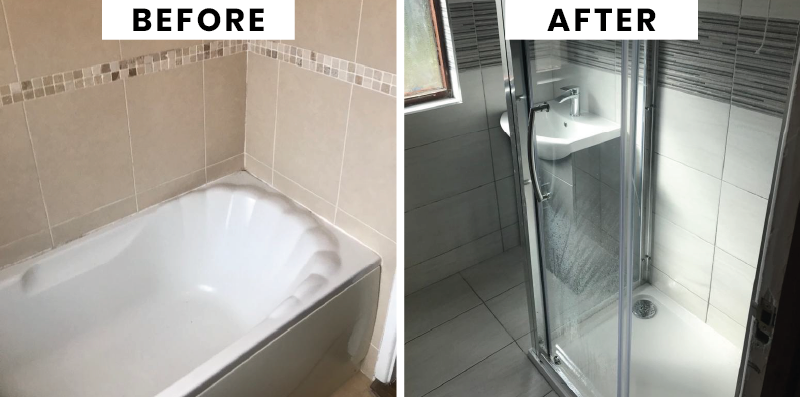 Radiator
The radiator was upgraded to the modern Peretti in matte anthracite with chrome towel rails, matching well with the darker units and the decor tiles in the bathroom and contrasting the wall and floor tiles to give it that modern finish we were after!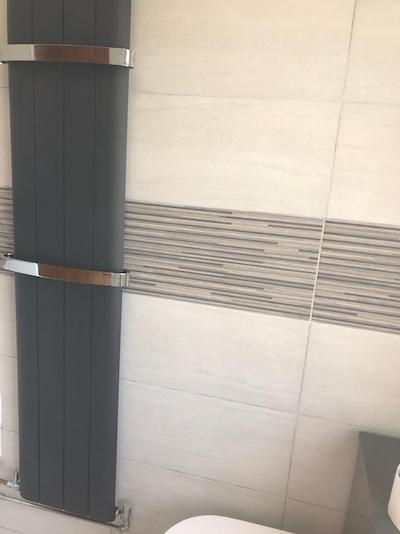 We hope you liked reading about this recent local bathroom refurbishment, if you are interested in any of these products or are interested in getting your bathroom refurbished, then please get in touch with us and we will try to get back to you as soon as possible.